Carbon Monoxide
Smoke Detectors | Fire Prevention | Fire Prevention Week | Fire Extinguishers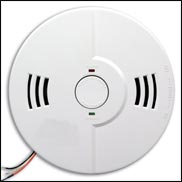 What is Carbon Monoxide? Carbon monoxide is an odorless, colorless and toxic gas. Because it is impossible to see, taste or smell the toxic fumes, CO can kill you before you are aware it is in your home. At lower levels of exposure, CO causes mild effects that are often mistaken for the flu. These symptoms include headaches, dizziness, disorientation, nausea and fatigue. The effects of CO exposure can vary greatly from person to person depending on age, overall health and the concentration and length of exposure.
Protect yourself and your family from carbon monoxide poisoning
Install at least one UL (Underwriters Laboratories) listed carbon monoxide alarm with an audible warning signal near the sleeping areas and outside individual bedrooms. Carbon monoxide alarms measure levels of CO over time and are designed to sound an alarm before an average, healthy adult would experience symptoms. It is very possible that you may not be experiencing symptoms when you hear the alarm. This does not mean that CO is not present.

Have a qualified professional check all fuel burning appliances, furnaces, venting and chimney systems at least once a year.

Never use your range or oven to help heat your home and never use a charcoal grill or hibachi in your home or garage.

Never keep a car running in a garage. Even if the garage doors are open, normal circulation will not provide enough fresh air to reliably prevent a dangerous buildup of CO.
When purchasing an existing home, have a qualified technician evaluate the integrity of the heating and cooking systems, as well as the sealed spaces between the garage and house. The presence of a carbon monoxide alarm in your home can save your life in the event of CO buildup.
fire prevention week

Fire Prevention Week was established to commemorate the Great Chicago Fire, the tragic 1871 conflagration that killed more than 250 people, left 100,000 homeless, destroyed more than 17,400 structures and burned more than 2,000 acres. The fire began on October 8, but continued into and did most of its damage on October 9, 1871.
 On the 40th anniversary of the Great Chicago Fire, the Fire Marshals Association of North America (today known as the International Fire Marshals Association), decided that the anniversary of the Great Chicago Fire should henceforth be observed not with festivities, but in a way that would keep the public informed about the importance of fire prevention. The commemoration grew incrementally official over the years.
In 1920, President Woodrow Wilson issued the first National Fire Prevention Day proclamation, and since 1922, Fire Prevention Week has been observed on the Sunday through Saturday period in which October 9 falls. According to the National Archives and Records Administration's Library Information Center, Fire Prevention Week is the longest running public health and safety observance on record. The President of the United States has signed a proclamation proclaiming a national observance during that week every year since 1925.
Fire Prevention Week in Nassau Bay
The Nassau Bay Volunteer Fire Department participates in the annual fire prevention week activities by educating children on school visits, hosting fire prevention classes for groups and organizations and on the Friday night of Fire Prevention Week hosts it's annual Open House.
The Mayor of Nassau Bay signs a proclamation proclaiming a city wide observance of Fire Prevention Week every October to coincide with the national observation. This proclamation is made during a City of Nassau Bay Council Meeting. Members of the NBVFD attend this meeting and give the City Council a schedule of events planned for the week.
If you or your group are interested in scheduling a vist to the fire station, or scheduling a fire prevention class please contact the NBVFD
If you would like more information about Fire Prevention Week, visit the National Fire Prevention Association's website by clicking here.